Total Knee Replacement (arthroplasty):
Knee Pain Causes & Treatment Options Explained by Dr. Rizk
Dr. Rizk will remove the damaged cartilage and bone and then position new metal or plastic joint surfaces to restore function and renew stability and movement.
Overall, there are two primary benefits from knee replacement surgery:
Elimination of pain
Improved range of motion
Of all possible surgical interventions, total knee replacement offers the greatest quality of life improvement. The procedure has a high rate of success.
Who should have Total Knee Replacement?
Total knee replacement is often the answer for people when x rays and other tests show joint damage; when moderate-to-severe, persistent pain does not improve adequately with nonsurgical treatment; and when the limited range of motion in their knee joint diminishes their quality of life.
In the past, patients between 60 and 75 years of age were considered to be the best candidates for total knee replacement. Over the past two decades, however, that age range has broadened to include more patients older than 75, who are likely to have other health issues, and patients younger than 60, who are generally more physically active and whose implants will probably be exposed to greater mechanical stress.
About 90 percent of patients appear to experience rapid and substantial reduction in pain, feel better in general, and enjoy improved joint function. Although most total knee replacement surgeries are successful, failure does occur and revision is sometimes necessary. Risk factors include being younger than 55 years old, being male, being obese, and having osteoarthritis, infection, or other illnesses.
Risks and Complications
Although complications are possible with any surgery, Dr. Rizk will take steps to minimize the risks. The most common complications of surgery include:
Infection
Excessive bleeding
Blood clots
Limb length inequality
Damage to blood vessels or arteries
Dr. Rizk will discuss possible complications with you before your surgery.
Recovery
After any type of surgery for arthritis of the knee, there is a period of recovery. Recovery time and rehabilitation depend on the type of surgery performed.
After any type of surgery for osteoarthritis of the knee, there is a period of recovery. Recovery time and rehabilitation depend on the type of surgery performed. In the case of total knee replacements, recovery can be expected between 4 and 12 weeks, although every recovery is different.
You won't waste any time however!  You will begin your physical therapy the very same day as surgery. You will continue physical therapy every day after that until discharge as part of the hospital's Joint Camp program.
After being discharged, you will continue to recover at home. Dr. Rizk will recommend physical therapy, either outpatient or in your home, to help you regain strength in your knee and to restore range of motion.
After your procedure, you will still need some moderate assistance from loved ones or neighbors. It will be help to make a list of who your caregivers will be during this time. You may need to use a cane, crutches or a walker for a period of after your surgery
Outcome
Knee replacement is an extremely successful surgery.
http://www.floridahealthfinder.gov/CompareCare/SelectChoicePhysicians.aspx?ProdLine=hipandknee
As expected, the National Institute of Health found that patients have better surgical results when the  physician's volume.is higher.
In almost all cases, the surgery relieves the pain of osteoarthritis and makes it possible to return to a more active lifestyle and perform daily activities more easily. Most patients are thrilled with their results.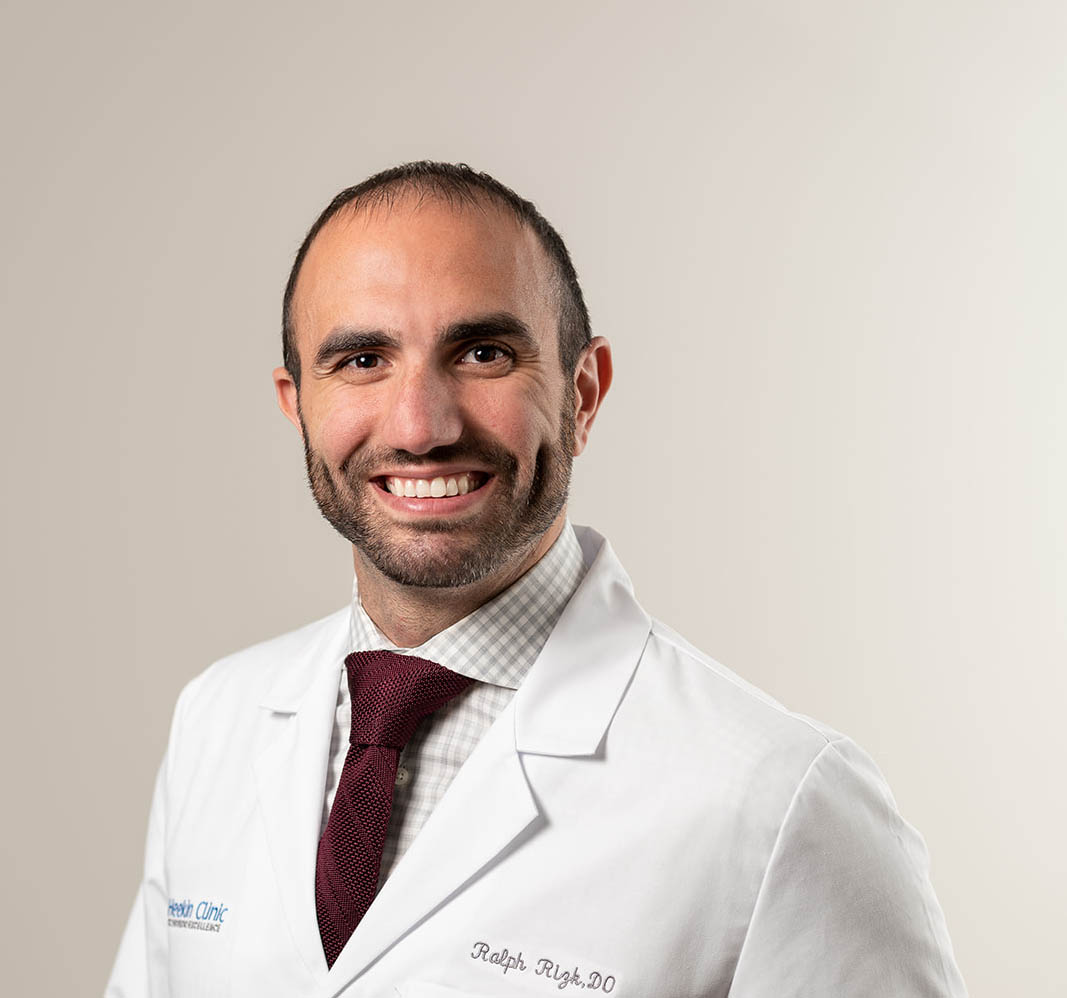 RALPH RIZK, DO
Orthopaedic Surgeon
Dr. Ralph Rizk is an Orthopaedic Surgeon who treats both adults and adolescent patients. He practices surgical Orthopaedics, specializing in Adult Hip and Knee Reconstruction Surgery […]
Dr. Rizk and the staff were very knowledgeable and efficient in evaluating my knee. I feel confident in his ability to help me cope with my aging knee. He had just the right combination of humor and professionalism that made my experience pleasant.
Wanda H.
PATIENT OF DR. RALPH RIZK

Better Health Care is Our Mission
Flexible scheduling and same-day appointments available!
1760 Edgewood Ave. West Jacksonville, FL 32208
6100 Kennerly Road Unit 202 Jacksonville, FL 32216
794 Blanding Blvd. Orange Park, FL 32073
1045 Riverside Ave. Suite 100 Jacksonville, FL 32204