The St. Vincent's Orthopedic Center of Excellence was founded by and is headed by Medical Director, R. David Heekin, MD, F.A.C.S.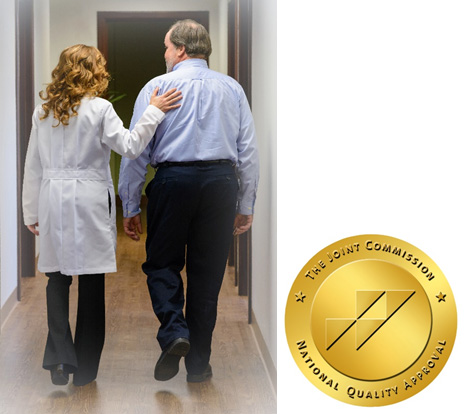 St. Vincent's Medical Center Riverside is home to award winning Orthopedic Center of Excellence (COE), recognized by the Joint Commission. It means these facilities have a seal of approval from the nation's premier healthcare accreditation agency.
The Orthopedic Center of Excellence Joint Program is designed to:
Educate patients and their families about the joint replacement surgery experience at St. Vincent's through an onsite Joint Rehab program.
Streamline the admissions process for a better patient experience.
Provide advanced surgical care in a state-of-the-art operating room using the most advanced equipment, techniques and implants in the world.
Provide post-operative care, coordinated by a multi-disciplinary team of highly-trained nurses, physical therapists, medical specialists, and discharge planners, who work together to guide each patient's transition back home.
Find out more about the Orthopedic Center of Excellence here
Preoperative Joint Education
St. Vincent's Total Joint Replacement Preoperative Education Program is designed to prepare and inform you about your surgery and what to epect while you are in the hospital and after discharge. The program includes presentations from all area of the hospital:  social workers, nurses, pharmacists, physical therapists, occupational therapists and surgeons. By the end of the 90-minute class, patients scheduled for surgery in the days ahead have learned about their surgical procedure, pre-op exercise recommendations, post-op pain management, physical therapy, occupational therapy and hospital discharge.
The class is offered daily at St. Vincent's Medical Center Riverside. This class is mandatory for all of our patients receiving a total hip or knee replacement and will be scheduled during your preoperative appointment.