We break down what you can expect to pay and have covered by insurance for a knee replacement.
It's that time… you've exhausted all medications, injections, exercise, physical therapy and non-surgical procedures for nonstop knee pain and you've decided (with the help of an orthopedic surgeon) that knee replacement surgery is your solution. A quick Google search can scare you and your knees right back into bed! That's why our orthopedic specialists at Heekin Clinic in Jacksonville think it's important to supply you with the cost information you need to make an informed decision about how to tackle the expense of a partial or total knee replacement surgery.
We're sure this won't shock you, but the cost of knee replacements can vary. First of all, it depends what kind of replacement surgery you're having – whether it's a partial knee replacement, total knee replacement or bilateral knee replacement. And, if you have any kind of preexisting condition that may complicate the surgery, the actual procedure and price may differ. In addition to the actual surgery, recovery costs such as a hospital stay and physical therapy must also be factored in to the total cost of your knee replacement surgery.
Breaking Down the Cost of a Knee Replacement
So where does this leave us? A knee replacement isn't a cheap solution, but many times it is a necessary one. The average hospital cost for a total knee replacement surgery in the United States is about $50,000. If you're in need of a partial knee replacement, the cost is anywhere from 10-20% less than that of a total knee replacement due to a shorter hospital stay.
But what about all those other bills? Additional inpatient bills may include your hospital stay, treatments rendered by your Heekin Clinic orthopedic surgeon while in St. Vincent's Medical Center Riverside, and services provided by anesthesiologists, physical therapists, surgical assistants, nurses, etc. The average price tag for these post-operation inpatient charges runs around $7,500.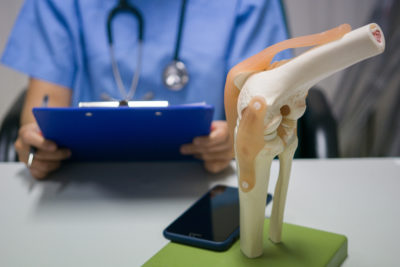 While the hospital charges and inpatient bills should be the bulk of your knee replacement surgery costs, outpatient services during recovery including lab work, physical therapy, durable medical equipment and follow-up visits with your orthopedic surgeon should also be expected.
Pre-surgical expenses are the other costs to factor into your surgery budget. The national average for these services which include blood work, cultures, panel tests, EKG, chest XR, and a consult with your orthopedic surgeon in the 90 days prior to your knee replacement typically falls around $1,900 for Medicare patients and $2,000 for private insurance holders.
What does insurance cover?
Medicare can be a huge help when it comes to any knee replacement procedure. While private insurances vary quite a deal and should be consulted for coverage understanding before scheduling surgery, Medicare typically pays out 100% of all inpatient charges once your Medicare Part A deductible is reached. Medicare usually covers around 80% of all outpatient services as well. Private insurance companies negotiate with hospitals and surgical providers and typically only pay a percentage of your total costs.
What if I don't have insurance?
If you do not have health insurance or are not covered by Medicare, make sure to ask our orthopedic specialists about payment plans and possible discounts before scheduling your surgery. We work with our patients to make sure that they not only have the best orthopedic medical care in Jacksonville, but also a stress-free experience.
Out-of-Pocket Totals for Knee Replacement Surgery
Now that we've gone into detail about the different costs of your knee replacement surgery, you can see that what you will end up paying can fluctuate greatly based on your insurance plan and coverage, and whether or not you have Medicare. Based on national data, Medicare patients can expect their total out-of-pocket costs to be in the hundreds of dollars range, while private insurance holders can expect their costs to be in the thousands of dollars. Deductibles, co-pays and maximum out-of-pocket limits will also be a factor.
Have more questions? Call us at (904) 328-5979 for answers and to get a knee replacement cost estimate today.